by Kailyn Trainer
Summer. Vacations. Get aways. It's that time of year for flip flops, chic hats and indulgent, escapist reading under an umbrella with your toes in the sand. For me, a good book is essential for my get away, and often I have been know to pack at least 3. Last year on my family vacation I was knee deep in the Widdershins Series by Jordan L. Hawke, and I had the remaining books in the series with me, plus 2 other quick reads just in case I blew threw the others. While I never took my books on the beach, the whole idea got me thinking- what makes a good "beach/vacation" read? The idea would be shelved, until recently when recommending a book to a friend, and I thought to myself, the answer to this question was more complex than ever.
I know not everyone likes mystery, or young adult or romance, and everyone will have their own opinions about what makes a book a good choice for your next trip. At least to me, the answer is this:
-Escapism. A good vacation read should have a detailed world in which you want to fall into. The world itself pulls you in as much as the characters do.
-Steady, fast paced suspense, or plot that keeps you turning the page because you just have to know what happens next.
This list is comprised of books I feel that fit this criteria. It's a mix of genres, some old some new, and some that you might find to be a bit cheesy- but that's the point right? Without further adou, here are my top 10 books you should read on your next vacation.
If you've read my article Siren Call: Why You Should Be Watching Siren, you'd know that I have a slight affinity for mermaids. It's no surprise that someone as obsessed with mermaids as I am would venture into the realm of mermaid centric fiction. Mermaid by Carolyn Turgeon isn't "original", as it is a retelling of the timeless Hans Christian Anderson classic, The Little Mermaid. It's less Disney-fied and darker than your standard mermaid adaption and nothing says beach babe vibes quite like clam shell bras and sea witches and coastal kingdoms.
This is definitely one of the older books on the list (published in 1960) and although it is classified as a children's book, I feel this book would resonate with just about anyone. Island of the Blue Dolphins is about a native American girl who is separated from her family tragically, as they all pile on to boats taking them from their island to newfound places. While she waits for the boats to come back for her, she learns about survival, unlikely alliances, and hope. It's not a light hearted novel by any means, but the story of a beautiful island, and human perseverance and self discovery make it a great novel for anyone. It's also relatively short, but has a lot of heart.
1 word- Manderlay.
This 1938 novel puts the reader directly in the shoes of the narrator. She has no name, because you are her- and have married a much older man who comes with a fantastical mansion, servants and exquisite rhododendrons. The mystery pertains to who Rebecca was. Every turn, every second you are faced with her memory, because she has left her hand on everything in the peculiar, ostentatious mansion. It's a classic, and it is definitely escapist in nature. You'll fall in love with Manderlay, and it's haunting mystery.
Much like Island Of The Blue Dolphins , Life Of Pi is a book about survival, and hope. It takes place mostly in a raft, with a man and a tiger. It's Castaway in a raft, with a ferocious tiger instead of a sassy volleyball. Coming together to form a crazy, unlikely bond between animal and man, this inspiring story will keep you guessing all the way through.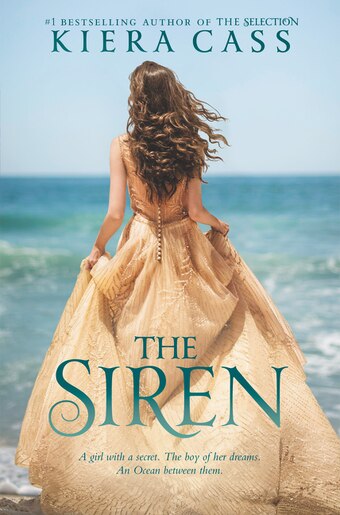 Honestly, any book by Kiera Cass would be perfect, indulgent fluffy romance reading. It is classified as young adult, and while it does feel very young in the way it is written, The Siren is the perfect romance novel for your next vacay. It's a familiar set up, the idea of beautiful sirens who sing and lure men to their deaths, but it expands on some of these mythical tropes. A Siren is taken, essentially someone in their last moments who gives their service to the Ocean, to stay alive they must sing and take lives, as the ocean needs to consume lives in order to maintain balance and let humanity thrive. The sirens can speak, only to each other, and the Ocean herself- and they all rely on one another to create a sisterhood. They are the children of the Ocean, and they live only to serve her. There is a heavy dose of insta-love, and there is definitely angst, which makes this a great teen read, but also palatable for any romance reader looking for that quint essential escape to happily ever after.
The Last Time I Lied is Camp Crystal Lake meets Pretty Little Liars. It takes place at summer camp, and has a PLL style mystery which involves girls disappearing, questionable eyewitness accounts, growing up and trying to figure out what really happened. It's suspenseful, and twisty, and the perfect book to soothe your inner Regina George.
The Luckiest Girl Alive is a multi-layered mystery. Who is Ani? What happened to her? Who is Tif? What did she do? The Luckiest Girl Alive puts you in the shoes of the girl, everyone is trying to be. Successful, beautiful, seemingly wealthy and happy with the perfect man. The mask of perfection is exhausting as we all know, and while everything is about being perfect for Ani, her past threatens to drag her down. The mystery will keep you turning the page, but Ani steals the show with her prickly outsides and damaged heart. It's psychological, it's twisted and the plot twist you will never see coming will completely floor you.
Sirena is another mermaid story (I told you I was obsessed) but in my opinion is best one. The book itself has been constructed eloquently and simply for a young adult novel, but there is so much to digest in it. It takes place in the times of old Grecian and roman myths. The story again familiar, Mermaid rescues dying man, but it is approached with less awe and romance at least at first. These two learn to trust one another, as Philoctetes lives years on the Isle of Lemnos with Sirena as his only companion. It is a love story, but it is also a story of triumph, sacrifice, and philosophy. The descriptions and world of this book will truly transport you to paradise.
This novel is the perfect whodunit style novel that is perfect to read on the beach. A luxury yacht, 10 cabins and a woman who goes overboard but isn't on the list? A conspiracy? Murder? The unraveling mystery and the setting on this novel make it the perfect book to satisfy you hunger for fancy dinners on yachts and psychologically traumatized narrarators. I wouldn't recommend reading it on a cruise though. If you do read it on a cruise though- stay way from the railings and don't trust the camera guy.
This one gets the number one spot for many reasons. First off, it is a solid psychological mystery. It keeps you guessing all the way through. It takes place on a private island, which is essentially Manderlay times a thousand. The Wealthy to do Sinclairs, who are bickering and fighting over fortunes, their children left to their own devices, on the beach. The cousins +1 (3 cousins plus the friend of one) are spoiled, and mischiveious and they are perfect escapist characters. Theres even a hint of romance! But the overlaying hauntingly eerie feeling surrounding the island and the Sinclair family is more engulfing than Pretty Little Liars or Gossip Girl, or Riverdale. It keeps you guessing, and trust me when I say you will be flabbergasted with the ending of this book, and it is the hardest book to talk about for me, because you can't give anything away or it completely destroys the whole book.
"There's a lot of fish in the sea, but I'm a mermaid"
I'm a geek, a cosplayer, a photographer, a coffee addict, a travel enthusiast, a fashionista, a wife, an artist, and a big kid at heart.
I graduated from Slippery Rock University in 2010 with a Bachelor of Fine Arts in digital art & photography and operate my own photography business part time.
I love to read, write, play video games and board games, and I love to cook as much as I love to dine out and try new things.
I reside in the Steel City (Pittsburgh, PA), living my best life with my gamer husband.

If you'd like to contact Kailyn regarding a possible project, send her an email at cherryalakei85@gmail.com.